Ready to understand how real estate digital marketing can help you attract more clients?
What is Real Estate Marketing?
Real estate marketing can be understood as the set of online and offline advertising strategies and merchandising actions that agencies or agents use to gain more credibility, attract the public, and retain old clients. As a result, sales, rentals, and notoriety are expected to increase.
When investing in real estate marketing, strategies must be designed according to the characteristics of this market. It is unlikely that someone will buy a property from a company/agent in which they have no confidence or do not demonstrate credibility and authority in the area. Therefore it is necessary to invest in the relationship with the client and place this factor at the center of the marketing strategy.
How does it work?
Real estate marketing can work in many ways as it will depend on your company's position within the market, the customer profile you want to reach and the practices you want to adopt. However, some parameters and actions are required for all choices.
In the case of digital marketing, businesses that produce content are seen by people as more committed to maintaining a relationship with their clients, as they are more active on social networks, unlike brands that do not invest in this activity.
Creating a professional blog and social media to provide relevant information to your audience is a way to show that your company is there to help. The blog or website may contain content about doubts, tips, common mistakes, and everything that encompasses the universe of buying and leasing real estate. It may contain content related to the bureaucracy of this process and even decoration ideas.
But in any case, what are the main advantages of real estate digital marketing?
1. Optimizes the exchange with clients
This is a direct benefit of investing in real estate marketing: you create a relationship with customers, become a reference for them, and show that you will be able to offer a better experience.
The content you post on your social media platforms and website, in addition to increasing your notoriety, improves the relationship and trust you have with your clients. Social media can be a more direct space for contacting potential clients and you can also exchange tips with other real estate agents. You don't need to send only emails to communicate with your local buyers.
2. Increases your customer list
Real estate digital marketing facilitates the dissemination of properties and services and builds an image of reference in this business sector.
In addition, with the frequency of blog and social media posts, you remain in the public's memory. Former clients – and even people who only view your content – are more likely to refer your business to someone in need. You can also create an email newsletter distribution list or a "best friends group" on Instagram for those interested in receiving exclusive advice and new listings. They will feel welcomed and will not hesitate to choose you as their real estate agent.
3. Enables the measurement of results
You are only in a position to improve your strategy to win customers if the actions you employ are critically evaluated.
Real estate marketing, when well conducted, allows the results obtained to be measured through concrete numbers, such as performance indicators (KPIs – Key Performance Indicators). These numbers will show you if your campaign is doing well and if your digital marketing is effective, if your ROI is paying off, or any other metric you need to measure for your website or blog.
That way, you can test different content and media and see what works and what doesn't, and start making assertive decisions when planning your real estate marketing strategy.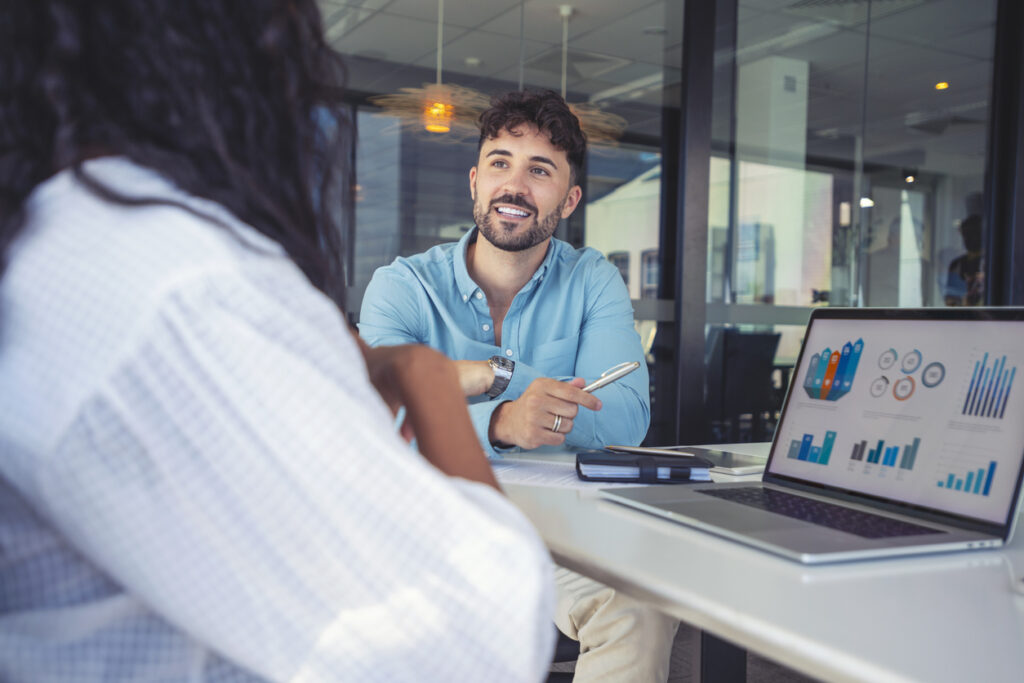 4. Strengthens your brand authority
The more relevant content you publish, which is capable of helping and delivering value, the more people perceive you as an authority in the field. To get more hits, don't forget to publish SEO-optimized content in your real estate marketing. Your listing ads should be irresistible!
It sounds silly, but your presence on social media brings tranquility. People prefer brands that can be easily found online, this shows transparency and trust in the service provided as it is also the place where customers can evaluate the brand. You can become a trusted reference when it comes to real estate. Consequently, the more trust the client places in you, the more they will acquire security when concluding their business.
5. Speeds up the sales cycle
You may have already noticed that the real estate sales cycle is longer than in other niche markets.
The explanation is simple: it is a large investment, which deals with savings and the emotions of people who have the dream of their own property.
But if you invest in marketing, generating valuable content, providing solutions to consumer needs, and understanding what they are looking for, the trend is that this cycle will accelerate.
Finally, it is worth stressing that digital marketing tools allow you to have high visibility, even in a way that you did not expect. Currently, having a presence on the web is no longer a possibility and has become an obligation. Therefore, you cannot fail to use this tool if you want to succeed in the real estate business.
Now that you've seen how digital marketing can help you attract more clients to your real estate business, take the opportunity to get to know Allready.ai. A platform that generates optimized content for real estate agents!