Have you ever heard of the term SEO? The acronym, which stands for Search Engine Optimization, brings together a set of techniques that, if used correctly, can improve the digital marketing results of your real estate business!
Those who work in the real estate market face strong competition. There are countless options for properties, facilities, and advantages offered to those interested in selling, renting, or managing a property.
Given this, it is easy to understand the importance of SEO for your company's content to gain prominence on Google against the competition. Do you want to better understand how this strategy can be included in the day-to-day of real estate? Check it out in the article we have prepared for you!
What is SEO?
SEO is an essential tool for your digital marketing. In your Google search experience: when you want to look for something or a service, do you usually go past the first page, or do you usually choose one of the first search results?
Most people click on the website that appears at the top of the results. This visibility can mean that the page has authority on the subject, generating a feeling of trust in the user.
SEO optimization helps your real estate business to appear in the top positions of Google's organic search. You should keep in mind that the visibility of your business can be achieved without any kind of investment in media ads.
You need to focus on optimizing your own pages and your relationship with other websites to improve users' search and navigation experience.
Every second, millions of searches are performed on Google, which is the principal search engine in the world. Those looking for a property for sale or rent will have at their disposal a multitude of companies that offer the same services, as the real estate market faces strong competition.
With each search, Google assembles a sort of ranking, based on the content that best relates to the user's query. The best answers, of course, will be in a privileged position, at the top! Want to get there? For this, you will need to prove to Google that your site has the best answer to the questions that are placed in the search box – that's a good use of SEO!
The process, which is fast and imperceptible to our eyes, is based on three main points:
Crawling: Google crawls the content present on the web, through a robot called "Googlebot";
Indexing: Crawled pages are indexed. They go into the search engine index, which is a large library of web content. The content is organized based on the information collected in the crawl, such as page load times and top keywords;
Ranking: This process occurs every time the user does a search. According to the keyword used in the search engine, Google looks through its library in order to find pages that answer a certain question. It is at this stage that all efforts are concentrated, which shows the importance of SEO.
Do you see how fundamental the use of keywords is for an excellent ranking in the search algorithm? The number one spot on Google has a much higher click-through rate than all other websites. Appearing on the first page is synonymous with visibility for your business!
Advantages of SEO for your business
Most people click on the first Google result and only visit the other addresses if they are dissatisfied with what they saw. With your business website appearing first, you have the advantage of having the first opportunity to satisfy a user's need.
Firstly, it is necessary to keep in mind that SEO strategies usually give results in the medium and long term. Immediate results will only be achieved with sponsored links. So be patient and focus on good planning. Define what results you want to achieve as an agent.
Suppose you already have a good understanding of digital marketing. In that case, you should know that in order to get the organic traffic you so desperately want, it is essential that the content published on your page is relevant to those who will access it. Thus, it is possible to increase your organic traffic, generate more leads, generate more sales, reduce the cost of customer acquisition and grow your brand authority!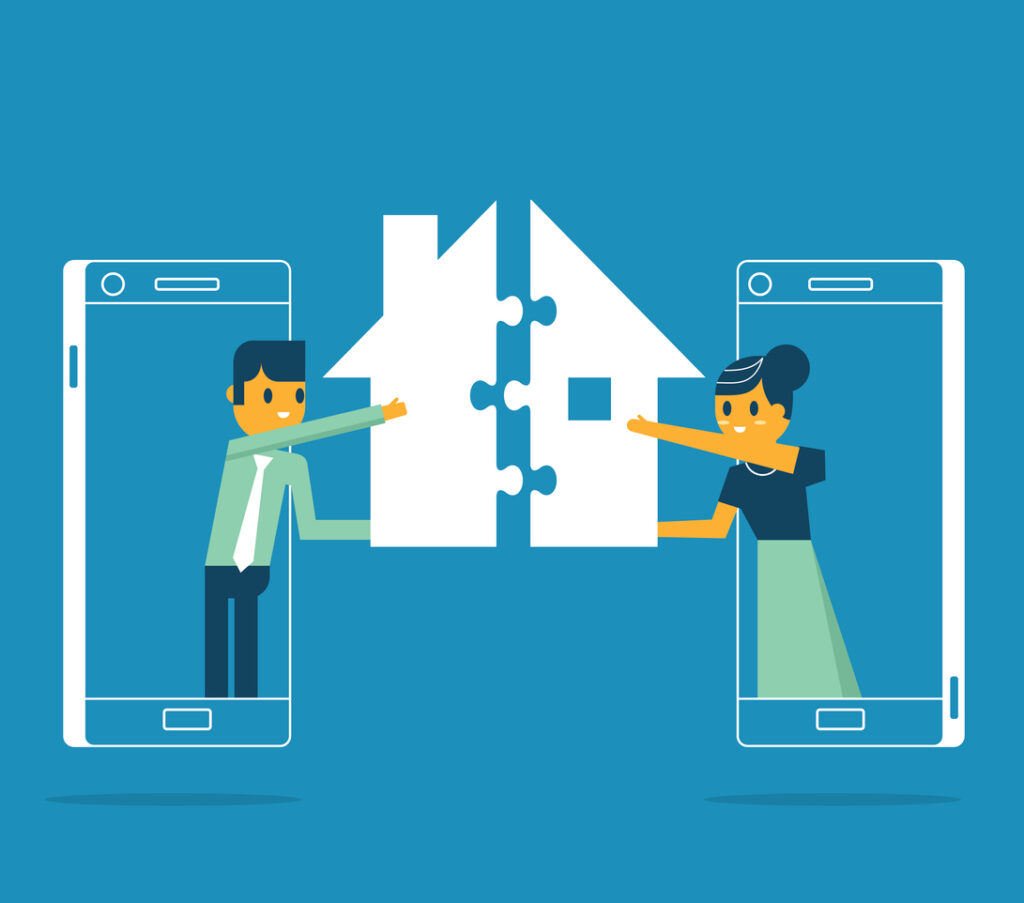 How SEO for real estate will be useful for your brand
Those who work in real estate have noticed in recent years a significant transition in the sector, from the physical environment to the digital environment. It is not about serving the client only remotely but making more information available to the interested public so that they feel more comfortable seeking your agent's services.
In times when customers perform numerous internet searches before choosing a property, real estate digital marketing is no longer simply a bonus but an essential part of your business!
Here we will dive into some very important factors that SEO for real estate can do for your business to stop your business from being just one more website and instead become prominent in web search engines like Google. Target your work to the right audience and grow with some valuable real estate digital marketing tips!
1. Focus on quality, not quantity
It doesn't matter if your real estate business is small or large, when we talk about SEO strategies for your website, we are definitely not talking about who can pay more to be at the top.
In this marketing work, those who strive to develop the best strategies achieve the best results! In other words, the competition is more for quality than quantity. So make sure your real estate digital marketing is generating content that makes a difference, using the right keywords!
2. Get more qualified traffic to your website
With SEO tactics for the real estate market, you will attract a large number of visitors to your website, and best of all, organically! When SEO is used correctly, your posts will rank better. Remember, the better positioned you are on Google, the more clicks your real estate page will receive and the more traffic will arrive at your website.
SEO is also capable of generating more qualified traffic because when the user does the search, they are interested in the subject. If your company has the answer to what they are looking for, they are more likely to engage with your content and become a customer. Therefore, SEO for real estate can be a great ally in the success of your sales!
3. Strategies that improve conversion rates
Adopt SEO for the real estate market and optimize your website so that your user has an easy and efficient experience in reading and navigating your site! The secret is not only to attract people but to keep them interested in your real estate business.
4. SEO for the real estate market increases your brand authority
Much of the credibility that your real estate company can have with the public will not come from paid ads! Of course, a campaign developed on Google Adwords can generate excellent results, however, nothing replaces a good position in the market generated only by relevant content.
In addition, it is necessary to consider that many users have a certain fear of clicking on ads. SEO for the real estate market can make your business a reliable source of information. Therefore, the more your business appears on the search page, the more users will begin to observe it with "good eyes"!
5. Continuous and long-term return
Real estate SEO, unlike Google Adwords campaigns, will keep your business getting positive results for a long time. When you pay to be ranked for a set amount of time, audience feedback stops when the campaign expires.
With a good SEO strategy, the content is created and remains at the top indefinitely. Of course, from time to time, it will be necessary to review whether the content on your real estate website remains aligned with the communication you want to have with your local audience.
Ready to try?
Now that you understand the advantages and uses of SEO for the real estate market, you are ready to master the techniques that will help you achieve complete optimization. It must be kept in mind that placing keywords on the site does not mean distributing them randomly.

Find out which terms are most strategic for your real estate and which words users are searching for the most to meet their needs! Allready.ai automatically generates, through artificial intelligence, SEO-optimized texts for your ads, articles, and other texts for your real estate website.