One of the most important tasks of a realtor is investing in real estate lead generation, that is, finding potential clients interested in buying, renting, or selling a property.
The term "real estate lead generation" is used in marketing to describe the process of getting clients for your real estate business.
Before the age of computers, real estate professionals had to go out on the street and get in touch with people in person, or buy contact lists to call them. Although today some real estate agents still work in this traditional way, the majority count on multiple internet possibilities to get leads.
In the digital age, technology has been instrumental in advancing business, especially in the field of marketing. Realtors are investing almost 100% of their marketing in social networks, blogs, websites, videos, online search engines, and apps, among other channels, to attract as many leads as possible. In this article, we will share some key tips that will show you how to get more leads to grow your real estate business:
Recommendations
One of the most traditional ways of getting clients is through recommendations from family, friends, neighbors, and colleagues. If you have a good relationship with them, they will recommend you to others. You are more likely to be recommended if you have worked with the person before or if they have used your services to purchase, rent or sell properties.
To start your career in the real estate market, first, gather the closest contacts of people who already trust you as family and friends. To encompass your sphere of influence, consider participating in real estate conferences, it is an excellent opportunity to network with other realtors from other regions of the country.
Take the opportunity to build professional relationships with national and other state realtors who can serve you in the future. When someone contacts these professionals informing them that they are looking for a property in their area, they can recommend you to assist them, as they trust their work.
Search Engine Optimization (SEO)
It is critical that your real estate website ranks on Google as 95% of homebuyers first search the internet before choosing your property. And to ensure more hits, it's important to know how to take advantage of local search engine optimization (SEO).
To ensure SEO-optimized content, it is essential to implement a set of techniques that can make a web page rank well in the "organic search" engines.
Ranking well in search engines will help generate more traffic, phone calls, and website visits for your real estate business. This is a fundamental tip in the process of generating leads in the real estate market.
Landing pages
Landing pages are used by real estate agents and consultants to capture leads, such as book landing pages, home review pages, community landing pages, and property listing landing pages among others.
Most realtors do not know how to use the tool properly and send traffic to pages on their website that are not designed to capture new leads. To get more and more qualified traffic, it is important to invest properly in your website, focusing on the right audience to have a return on sales.
Visits open to the public
Conducting a public tour of a house is a great way to meet and approach potential clients without spending money. These visits don't always generate sales, but they allow you to grow your list of real estate leads and have a chance to introduce yourself to more people.
The secret is to get as much information from these potential customers as possible. You must include a home visit log sheet for visitors to fill out leaving their personal details and property type preferences. This is a great way to get real estate leads for free.
It's a good idea to start a conversation and ask for details informally. This way, you will have the contact details of potential customers, which you can follow up with after the event.
Get inspired by competitors
One of the best ways to generate leads is to find out where your high-performing real estate competitors get their leads online and get inspired by their strategy.
When it comes to marketing and lead generation for real estate agents, It's best to model your marketing and lead generation strategy around what the best performers are doing.
You can use tools like SimilarWeb and BuiltWith to see which channels are driving the most traffic for your competitors and what technology they are using to run and advertise their sites. This can give you valuable insights into the specific channels they are investing in to generate traffic and leads.
Create your blog and social media
Use your blog and social networks to provide valuable information to visitors and position you as a trusted resource. Potential clients are not only looking for properties, they are also searching about the process and the benefits of each region.
You can produce authorial content with exclusive tips about the real estate market, which are the economic and housing trends, inform about the main information about real estate financing, and even some home renovation tips. Investing your time in producing this relevant material is part of the real estate lead generation process. It's your opportunity to show that you are the best agent in the region.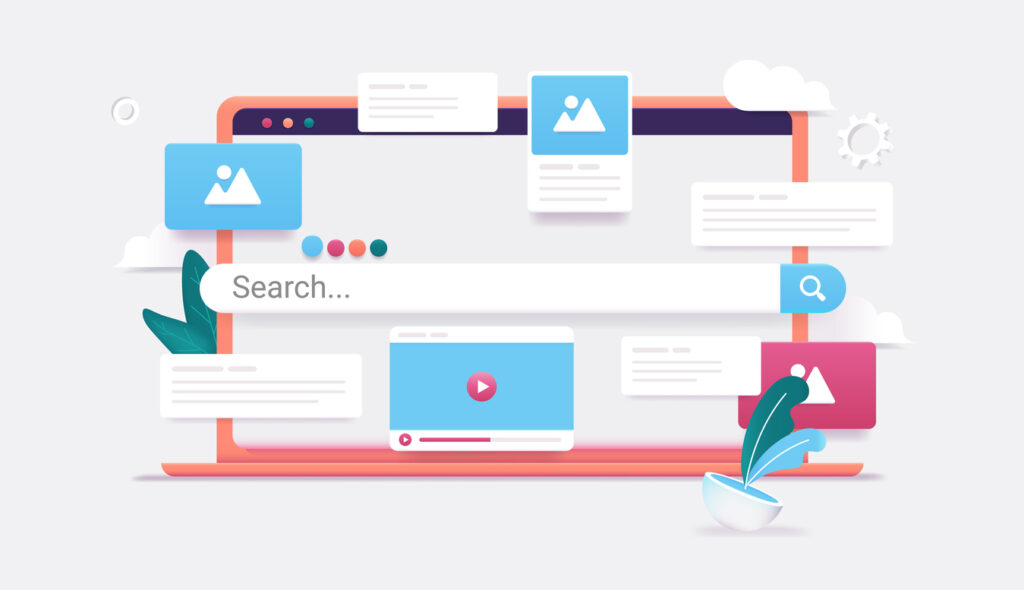 Google Ads
Google Ads is the best platform to help you detect great leads in your region.
Using relevant tags or keywords in your real estate ads is essential for your listing to appear at the top of the search results page. The secret is to choose keywords that your target audience will search for when looking for a property like yours. Be specific. You can also target your business by name and location to reach people who are already familiar with your brand.
Facebook Page and Ads
Facebook is effective for real estate marketing because it is a large platform with a visual interface. Paid advertising can be customized to reach your target audience, but you can also use Facebook for free by leveraging customer reviews, ratings, and content. Showcasing properties you've already sold is a great way to attract potential clients and promote your brand.
Facebook is a great way to promote your brand and attract potential customers, without spending any money. All you need is good reviews, a 5-star rating, a flashy cover photo, and some posts regularly updating the status of your listing.
Virtual Tour
Instead of inviting potential customers to check out a property in person, you can offer them a virtual tour online. This video tour is a modern way that allows even those who are far away to "visit" the properties for sale. They can be posted on websites, social media, and even Google Maps. Listings with video are much more accessed than those without video.
This is also a great resource for potential buyers who are outside your area, as they can get more details about the property before taking a trip to see it in person. People who are looking to sell their property may also be interested in this service, and contact you to learn more.
Information about the neighborhood
When someone wants to move to a new area, they'll research the community and housing market. You can become the go-to resource for your field by creating pages on your site that include information on topics like schools, leisure services, local commerce, hospitals, transportation, climate, demography, economy, and other important amenities for those who imagine living there.
Optimize your web pages with keywords so they appear in Google search results.
Newsletters for select audiences
It's not just about sending automated emails, it's about creating targeted email campaigns that are relevant to your target audience and the kind of service you offer. Content relevant to your target audience can be sent through monthly or quarterly summaries, newsletters, promotions, corporate messages, celebrations, and special dates.
The ideal is to separate your contacts into different lists so that you can send different types of emails according to their profile. Thus, you will maximize the ROI of your email marketing.
You read here some valuable tips that, if properly applied, can certainly generate satisfactory results and good interaction with your customers.
It's also important to be aware that these techniques work, but in the long run, so don't expect to implement them today and expect a million clients to call tomorrow. It's a job that can take months, so be patient and success will follow! To help you with optimized SEO real estate quality content, count on Allready.ai.