Billions of people scroll, swipe, and double-tap their way through their feeds every day. It's no wonder that savvy businesses have turned to social media as the ultimate tool for reaching out to potential clients. Real estate is no exception. The competition for buyers and sellers has been heating up as the housing market toughens up. Successful real estate agents and brokers know to leverage the power of social media to break through the noise. One of the most common tricks in the book is to create captivating ads that drive interest in your properties and services.
80% of real estate agents surveyed say they plan to use social media when growing their business in 2022.

The Close 2022 Real Estate Agent Marketing Survey
In this guide, we will take a deep dive into the dynamic landscape of social media. We will cover everything from choosing the right social media platform to optimizing ads after launch. This guide will teach you what you need to know to get started with social media advertising.
Contents

What are popular social media platforms for real estate?
The first step in any social media ad campaign is to choose the right platform. Facebook, Instagram, Linkedin, and YouTube are popular social media platforms for real estate advertising. Each platform has its own unique benefits and drawbacks. It's important to choose the one that best fits your audience and goals.
Facebook is the most popular social media platform for real estate agents. Ads on Facebook can have greater reach thanks to its nearly 3 billion monthly active users. It also has a powerful ad manager with advanced tools that allows you to create and manage your ads easily,
Instagram is a visually-driven platform with over 1 billion monthly active users. It's a great platform for targeting younger audiences that may have interest in starter homes or rental properties. It is also a great channel for showcasing images and videos of properties. An added benefit is that Instagram ads can be easily managed through Facebook Ads Manager.
LinkedIn is a professional networking platform that is particularly effective for B2B marketing. It's a great platform for advertising commercial properties and investment opportunities. This is due to its ability to targets professionals in the real estate industry, as well as high net worth individuals.
YouTube is a video sharing platform with over 2 billion monthly active users. It is a great channel to create and share entertaining and educational video content. It also manages paid video advertising and offers the advantage of ensuring your target audience watches your ads in full.
How to choose the best social media platform?
When choosing the right platform for your social media ad campaign, consider your audience, your goals, and the type of ad content needed. Don't be afraid to mix things up and try different platforms to see what resonates with your audience the most. Let the numbers do the talking and leverage data to pick the right platform for your unique needs.

Why do we need goals for ad campaigns?
Your marketing goals set the foundation for the rest of your campaign strategy. The specific goals will depend on the needs and objectives of the real estate professional or agency. No matter what, the ultimate aim of any real estate ad campaign is to attract and persuade prospects to take the plunge and become your clients.
What are common ad campaign goals for real estate?
Here are a few ideas to get you started, but don't hesitate to tailor them to your specific audience and niche.
Lead generation. This is one of the most common goals for real estate ads. The goal is to capture leads by encouraging users to fill out a form or provide contact information. They receive in exchange something of value, such as a real estate guide, virtual tour, or free consultation.
Brand awareness. Ads designed to increase brand awareness which may not have a call to action. Its primary aim is to help you stay on top of potential clients' minds, familiarize your audience with your brand, and build trust. This is especially an important goal for new agents or firms entering a new market.
Website traffic. You can use ads to drive potential clients to your website where they can learn more about your services and properties. This requires creating ads with strong calls-to-action that encourage users to click through to the landing page.
Property promotion. Ads designed to promote specific properties are especially useful for high-value or luxury homes. Ads that include images, videos, and property details can appeal to potential buyers.
Remarketing. Remarketing ads are designed to target users who have previously engaged with your website or ads. The goal is to re-engage these users and encourage them to take the next step, such as filling out a contact form or booking a consultation.

Why does targeted ads work?
When you know who your target audience is, you can set your social media ads up for success. Defining your target audience ensures people who are likely to convert to become clients see your ads. Knowing your audience also enables you to create ad content that speaks to their interests and needs. A single ad may not strike a chord with all types of real estate clients.
Who should your target audience be?
The target audience should be people most likely to be interested in the properties or services you want to advertise. You can first consider the campaign goals to narrow down which audience to target. It is especially true if these goals involve attracting buyers for specific properties. For instance, let's say your ad campaign goal is to lease an apartment near a college campus. Your target audience is likely university students or recent graduates looking for affordable living options. So, the age setting should reflect this audience.
What should you know about your target audience?
Describe your ideal customer in-depth by creating a profile with key demographic information, such as age, gender, income, and location. These come into play when you set up the ad targeting. You can also identify their psychographic attributes to tailor the ad messaging that resonates well with them. Psychographic attributes can include their interests, values, and lifestyle.
"Good marketers see consumers as complete human beings with all the dimensions real people have."

Jonah Sachs
How do you understand your target audience?
If you are unsure about who your ideal customers are and what they are looking for, market research is an invaluable tool. Use a range of methods such as surveys and focus groups to gain rich insights about their needs and motivations.
Social media platforms can also provide a wealth of data about your audience. Gather demographic data on users who show interest in your brand. You can also track online conversations to gauge how customers feel about your brand and other various topics.

Is video content better?
The next step is to create compelling ad content that will capture their attention and drive them to take action.
Before we dive in, it's worth asking: is video truly the king of content? This would depend on what you are setting out to achieve. For instance, when it comes to selling properties, video ads are more effective. This is because they can display a property's unique features and create an emotional appeal with potential buyers. On the other hand, images can quickly convey key information, containing more details about the property.
How do you create effective ad content?
No matter if you prefer to use video or images, all social media ads will at least include a headline, ad copy, and a call to action. The following best practices help you to create ad content that resonates with your audience and drives conversions.
Use a clear and persuasive headline. The first impression people will have of your ad is its headline or the first sentence that appears. It's important to make it simple, attention-grabbing, and relevant to the target audience. Given that readers may only scan your ad, the headline should strongly convey the benefits of your offering.
Write concise and convincing ad copy. Your ad copy should strike a balance between being persuasive or informative, yet short and to the point. Use the everyday language of your target audience to describe the unique selling proposition. Ensure the ad copy follows the appropriate format of the social media channels. For instance, relevant hashtags and emojis are must-haves for creating successful Instagram ads. If you are not comfortable with copywriting, Allready.ai may be a great option for creating high performing ad copies with less effort and time
Highlight your unique selling proposition. Your ad content should clearly communicate what makes you or your properties stand out from the competition. For example, if you offer a faster and more streamlined buying process, emphasize this in the copy. Don't forget to incorporate a clear call to action to provide your audience with a specific next step to access the advertised offering.
Use high-quality visuals. The images and videos that you use in your ads should be high-quality and visually appealing. They should also be relevant to your target audience and your offering. They are typically used in real estate to help potential clients picture themselves in the home or the lifestyle associated with the offerings.
Real Estate Ads Example
RE/MAX's ad copy effectively uses a combination of authority, numbers, and emotional appeal to help them stand apart from the competitors. It makes it clear why prospects should choose to work with them.
Sherry FitzGerald Group uses different versions on many of their ads. They use A/B testing to create future ad copies that are based on proven tactics.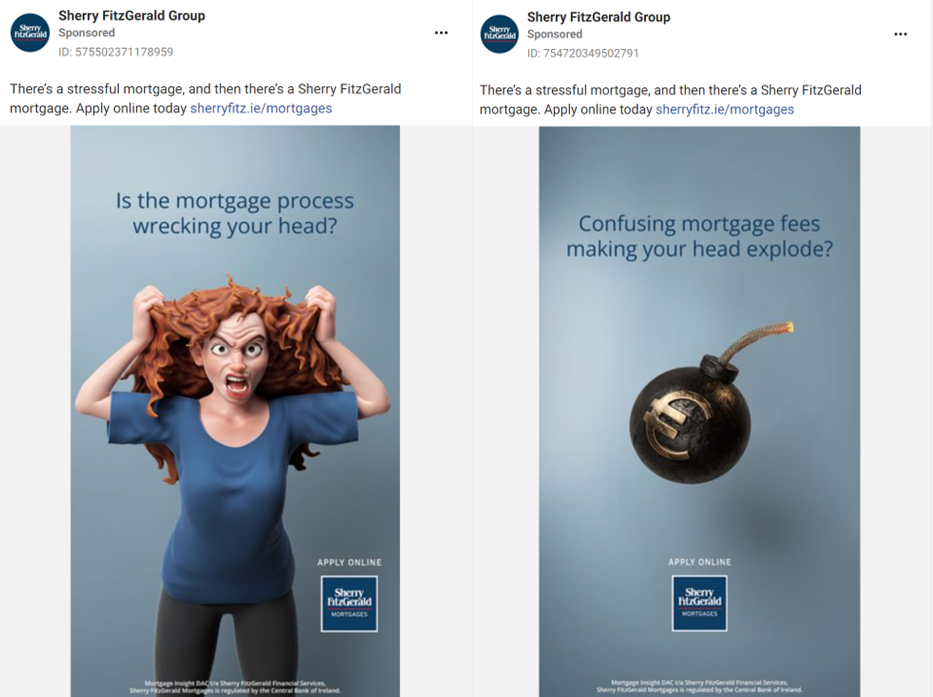 Zillow's ads not only promote listings, but also provide reasons for using Zillow to explore these listings. The ad copy here clearly communicates Zillow's unique selling points in a concise, social media friendly manner.

How to set up an ad campaign?
Once you have created your ad content, the next step is to set up your ad campaigns on the social media platforms of your choice. The steps are different for each platform, but here are the common steps that are required of you with some considerations:
Select your campaign objective. Most social media platforms give you the option of achieving three key ad campaign objectives. These are generating awareness, building consideration, or driving conversion. Select the option that best aligns with your marketing goals identified in the first step.
Define your audience. Use the ideal customer attributes in the previous steps to define the target audience in the set up. Most social media platforms offer targeting options based on demographics, interests, and behaviors.
Choose your ad placement. Social media platforms offer different ad placement options, such as in-feed ads, stories, or sponsored content. In-feed ads are usually the most effective because the newsfeed is the first thing a user sees when logging in. Select the placement option that best suits your ad content, and audience.
Set your budget and schedule. Factor in seasonality. Allocate a higher marketing budget when you expect the real estate market to be competitive. Use experiments and data from previous campaigns to set the best campaign schedule. Afterwards, your ad is ready to be reviewed and launched!

What ad campaign metrics to track?
Once you've unleashed your social media ad campaigns into the digital wild, it's crucial to evaluate how they're faring out there. You want to make sure they're not just swirling in a vortex of "likes" and "shares," but actually achieving their intended purpose. That's where key performance indicators (KPIs) come into play. Those trusty metrics help you assess the success of your campaigns. They serve as a barometer to measure whether you're hitting the goals set at the outset. They also inform you how to adjust your approach if necessary.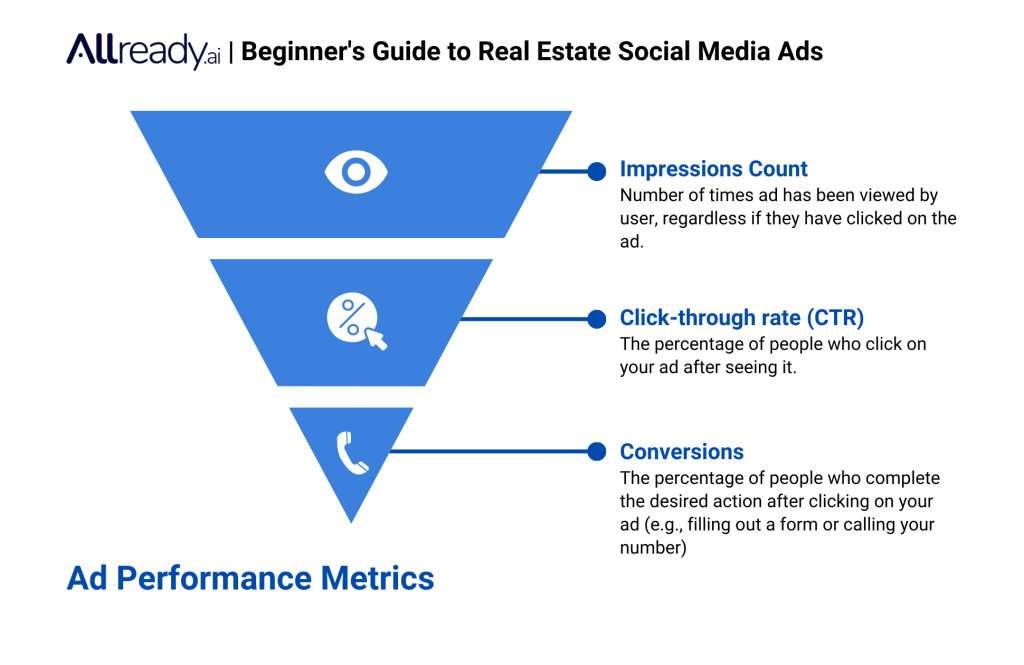 Read our blog on digital marketing metrics for a more in-depth look. Learn how to measure the success of any real estate marketing endeavor.
Where do you track these metrics?
Most social media platforms provide tools for tracking and analyzing the performance of your ad campaigns. These tools allow you to see how many people have seen your ad, clicked on it, and have taken the desired action. You can also use third-party tools, like Google Analytics, to track the ad-generated traffic and engagement on your website. Your customer relationship management (CRM) system can also provide numbers on leads, conversions, and revenue associated with the ads.
How do you measure ROI for ad campaigns?
Don't forget the bottom line! Keeping a close eye on the financial impact of your ad campaign is crucial, according to its recommendation. Here are the recommended metrics to track to make informed decisions about the type of ads and channels to allocate future resources in.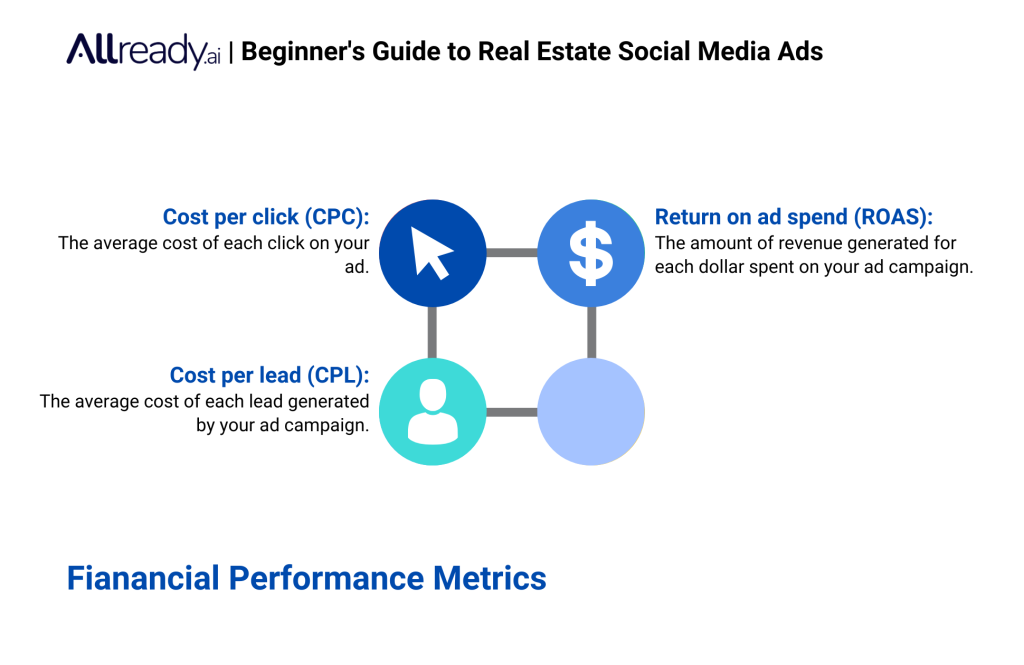 Why should ads be continuously optimized?
Congratulations on launching your ad campaign! However, your work doesn't end there. Even though you've done thorough research and put together the highest quality ads, there's no guarantee that the ads will convert as expected. This is why it's important to regularly monitor your performance data and fine-tune the ads based on your findings. Here are some key ways to use performance data to refine your ad campaigns:
"Marketing's job is never done. It's about perpetual motion. We must continue to innovate every day."

Beth Comstock, Vice-Chair of GE
Improving impressions count
If you want to improve the size of the audience that engages with your ads, explore using different ad placements for optimal results.
Improving click through rate
If you are struggling with poor click through rate, try experimenting with different ad formats, such as video ads or carousel ads. Find out which ones speak most to your target audience.
Improving conversion rate
If you are not getting the results you want in the conversion rate, try adjusting your targeting to reach a more specific or different audience. Adjust your ad content too. Try changing the headline, copy, images, or call to action to see if that improves performance.
Improving cost per lead
If you are spending too much to acquire leads without getting the desired results such as the return on ad spending, try reducing your budget or reallocating it to other ad campaigns.
Key Takeaways
The key to successful advertising is to meet your potential clients where they are. More often than not, this means being visible on social media.
Social media has an unparalleled ability to reach vast, yet specific audiences. It has quickly become a must-have in any real estate agent's marketing toolkit.
Developing a killer social media advertising strategy requires careful consideration of different elements. This includes your intended campaign goals, target audience, ad format, placement, and much more.
To measure success, gather insights from various sources, such as social media, web, and CRM analytics. By bringing all this information together, you can paint a comprehensive picture of how your campaigns are doing. This allows you to pinpoint areas for improvement to hit your goals.
Don't get left behind – launch winning social media ads and see your real estate business reach new heights.