The months of June, July, and August are usually great times of the year for real estate sales! This increase can be explained by the fact that it is the holiday season, and families have more time to see properties, especially in other regions or countries. During this period, foreign buyers usually take advantage of the holidays to travel and visit the properties that have caught their attention virtually.
For a real estate agent, nothing is as good as having a diverse and broad client portfolio. That's where the money from these professionals comes from, after all, the more sales, the better. Therefore, we cannot choose our type of clients unless we reach a very high level in our careers, in which we only need a few, exclusive clients to sustain us. But in the meantime, and especially for new agents, it is necessary to prepare to serve clients of different profiles coming from all over the world. The number of foreigners looking for a home has increased a lot in the last decade.
Marketing and sales practices need to incorporate diversity and serve increasingly multicultural and international clients. Real estate agents need to be aware of and sensitive to cultural differences in their marketing and sales practices. They must consistently make their clients feel comfortable, informed, and valued.
Are you ready to serve foreign customers?
We have some essential tips to know if you are well prepared for serving foreign clients in your real estate business:
1. Multilingual content
Your website and real estate listings need to be available in multiple languages if you want to attract foreign clients and stand out from other professionals in the market. To avoid embarrassment and errors in your ads, we suggest avoiding using Google Translator.
A good practice is to use artificial intelligence to generate a wide variety of text through Natural Language Processing (NLP). In addition to avoiding errors and misunderstandings in the content, this solution represents an undisputed opportunity to rewrite and enrich your content through data mining. The Allready.ai SaaS platform is a good example of a tool that generates quality content quickly in multiple languages for real estate agents.
2. Learn about the local bureaucracy for foreign buyers
It is very important that you study and be prepared to take into consideration all the issues of a foreign customer. The laws are not the same for non-residents of the country and often you will need to be the bridge between the customer and this kind of information. If you can explain the bureaucratic home buying process and price in a simple way to your potential buyers, they will be impressed and more likely to buy a house with you.
Before accompanying the potential client in the search for a home, it is good to inform them about the whole process, so you avoid misunderstandings. A good idea is to list the benefits for foreign buyers in your region. In addition, buyers need to know what documents will be required and their legal/tax obligations.
If you are well-informed and didactic during this first conversation, your chances are multiplied for this client to want to do business and buy a house with you.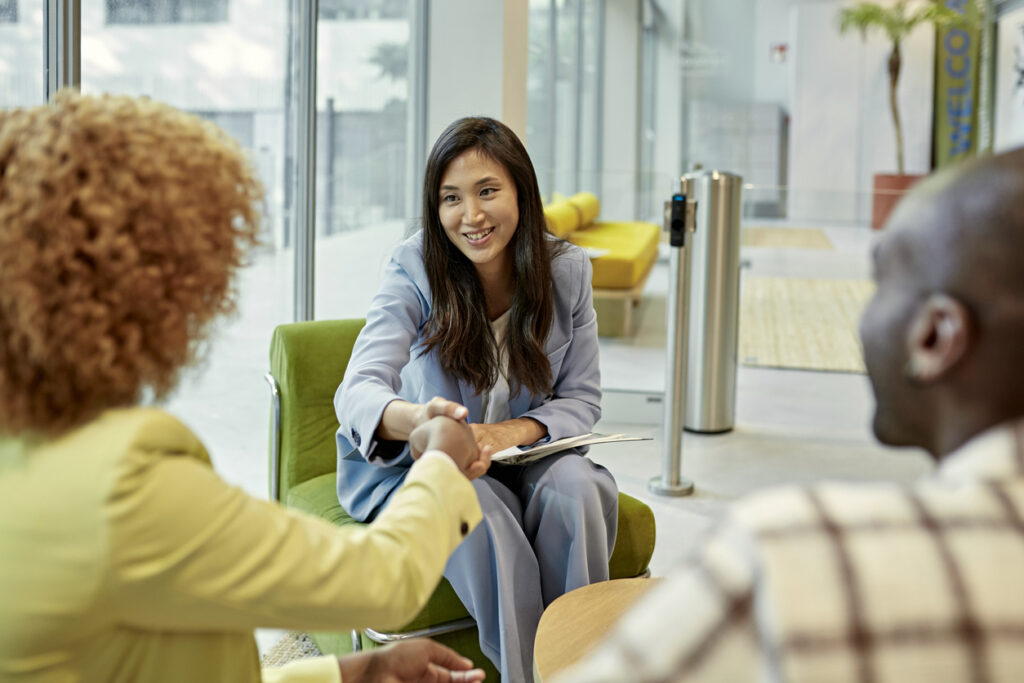 3. Be available
Potential foreign customers have many doubts. The process of buying or renting a house in that country may be new to them, so it is normal that they will ask you plenty of questions. Make yourself available to help them and try to respond quickly to your emails if you want to sell homes.
Also, because of the distance, you will probably need to show properties via video call. To avoid comings and goings, we recommend making videos of each property listed, so you will already have material ready and avoid unnecessary trips. Of course, visits will continue to be requested, but they will likely be less frequent. Housing can be simple!
4. Provide informative guides for foreigners
This is a great way to save time and attract foreign customers. By producing quality authorial content answering the main doubts of foreign clients, you will be generating leads and become a key reference for people looking for homes.
By posting guides and articles relevant to foreigners, your website and social media will be in higher demand. To have greater reach, it is important to optimize your text with SEO in multiple languages.
If you comply with these four points, serving foreign customers will be easy and profitable! To find out more tips on real estate marketing and how to use your social networks to promote your business, keep following us here. We are Allready to help you.